BGG Con 2016 came and went, and it was a blast! It still blows my mind that five days can go by so quickly! And I can't wait to do it all again next year.
I'm planning to do two posts on BGG Con. In this post, I'm going to write about all the games that I played. The next post will be about gaming with friends and the overall con experience, and, most importantly, which board games I came home with. My board-game play total for the convention: 23. And away we go!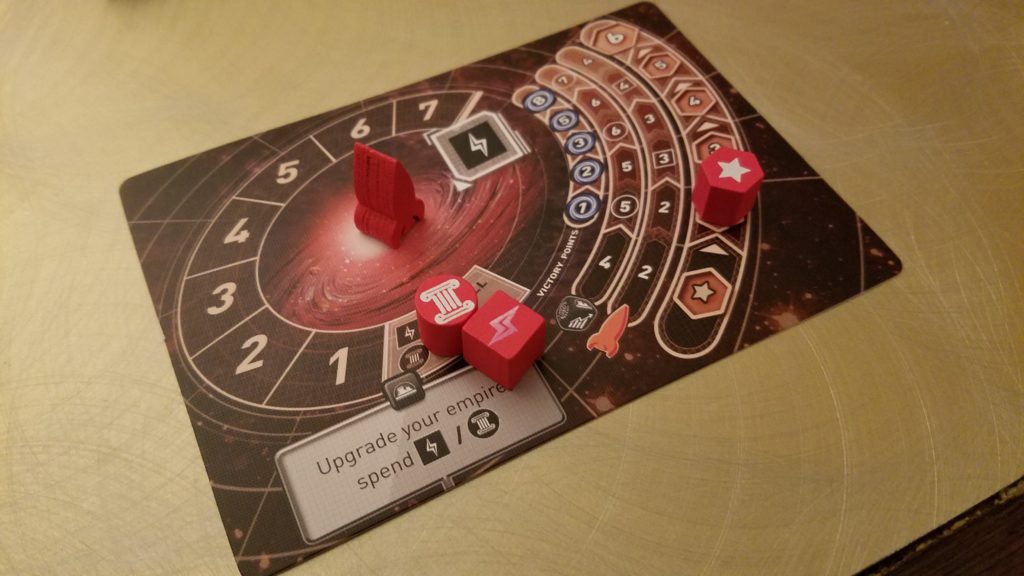 Tuesday: I flew into Dallas on Tuesday morning so I could work two Team Geek shifts, hang out with friends and have dinner with all the other Team Geek members.  I played a quick game of Tiny Epic Galaxies, which has the most adorable rocket-ship meeples! We then picked up our swag gifts and got to play some games in the Hot Games area before the crowds came in Wednesday.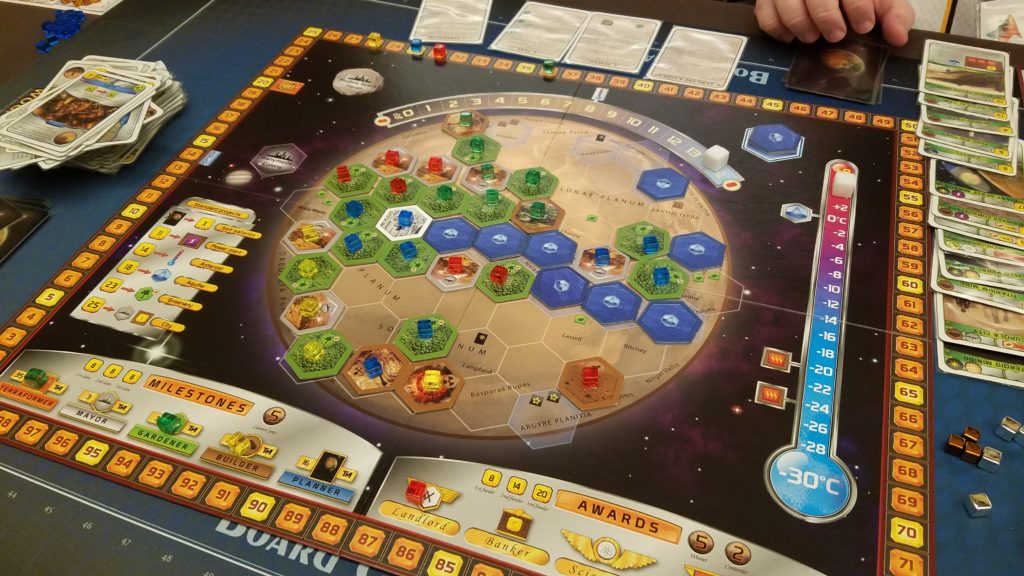 I played a 4-player game of Terraforming Mars, and it's a great game. Since three of us were learning (and for the interest of time), we decided not to draft cards, which we immediately realized is super necessary.  So, play it with the card-drafting element and with 4 people, as I've heard that a 5-player game is just way too long.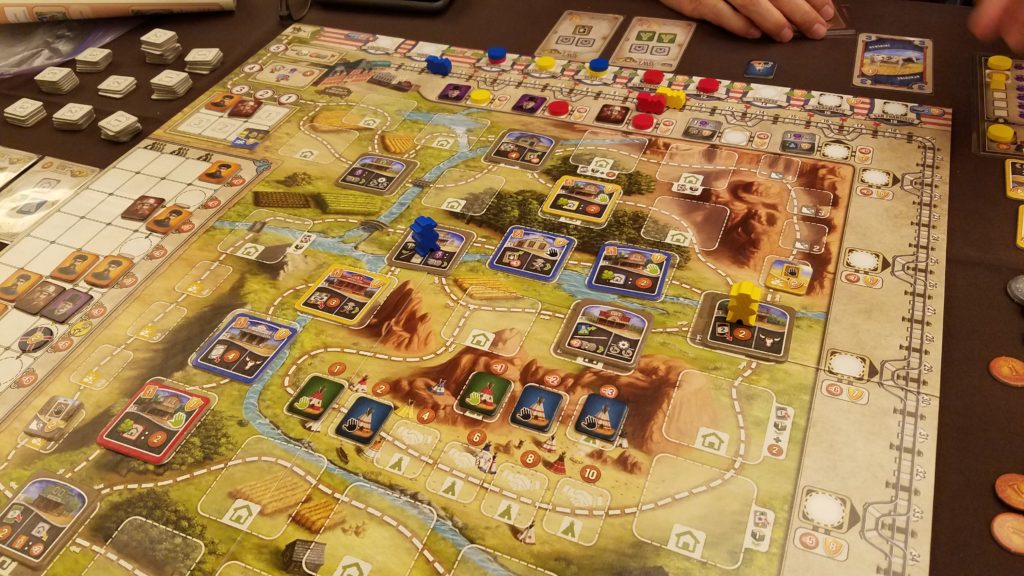 Wednesday: My first game was Great Western Trail. I really, really like this game! (Unfortunately, this game sold out in 15 minutes when the exhibitor hall finally opened on Thursday. Sad panda.) The designer of this game, Alexander Pfister, is the same guy who created Mombasa, which was my favorite game that I picked up at last year's convention.  Your rancher is moving along this trail to earn money and victory points, but there are also buildings along the way that help you improve your cow herd or allow you to hire more workers. It's basically a giant rondel on a map.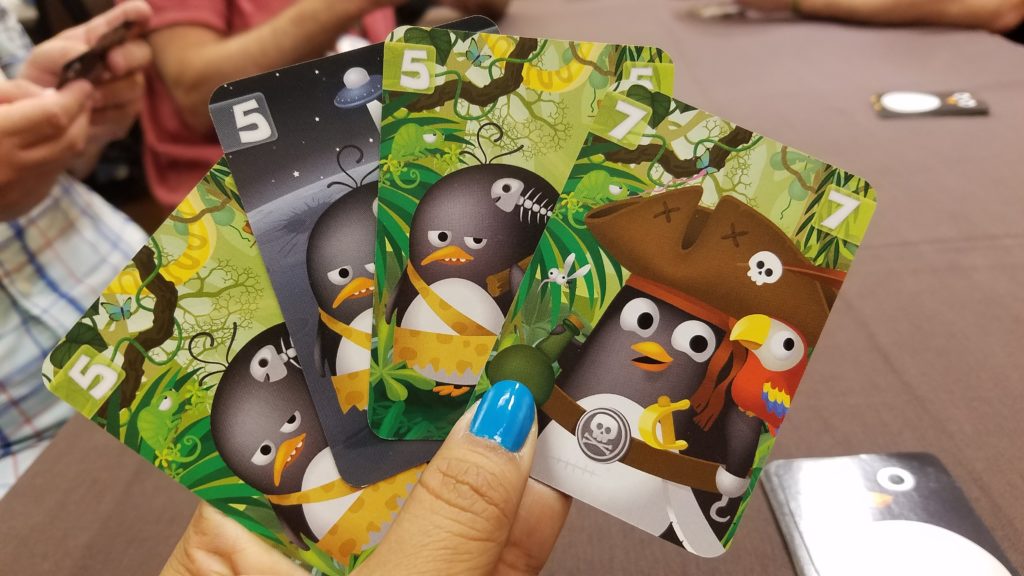 I then met up with my Arizona gaming folks and The Game Boy Geek. My second game of the day was Zany Penguins, which is a Bruno Cathala game. This game is adorable!! I must have this game! It's a hand-management game where you were collecting sets and playing cards, and you get to screw your neighbor over by giving them a card that can break their set. It's so fun!
Next we played Eternity, which is this beautiful trick-taking game. You collect trees and tricks, but if you don't get the same number of both, then you don't get bonuses or even possibly get negative points. The game quickly plays out over three rounds, and the person with the most victory points wins the game.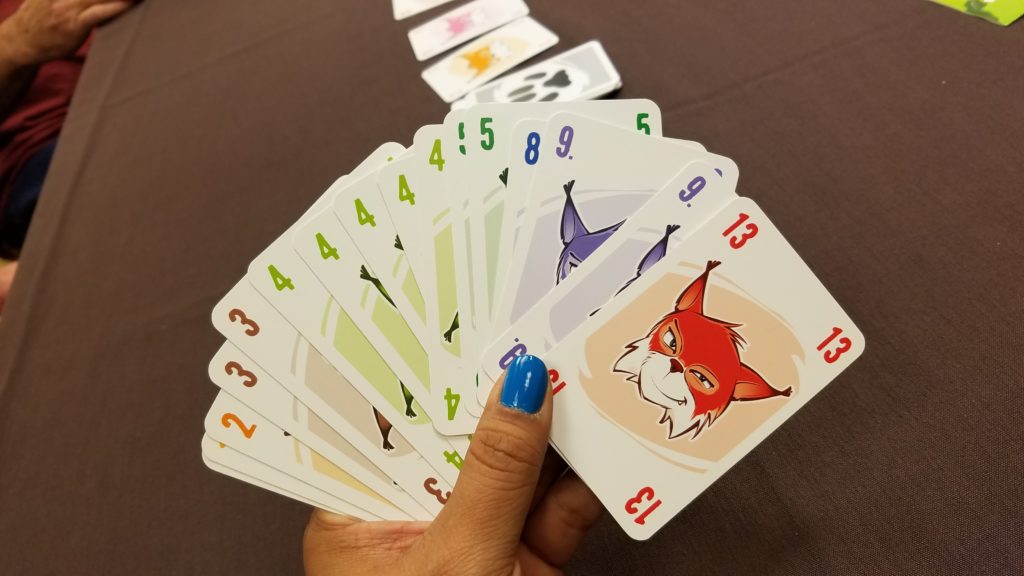 I also played Linko!, also known as Abluxxen.  This is also another set-collection game in which you're trying to get rid of all your cards. If you beat a set of cards played by your opponent, you can either force them to take the cards back into their hand, or remove them from the game and make them pick up face-up cards in the middle.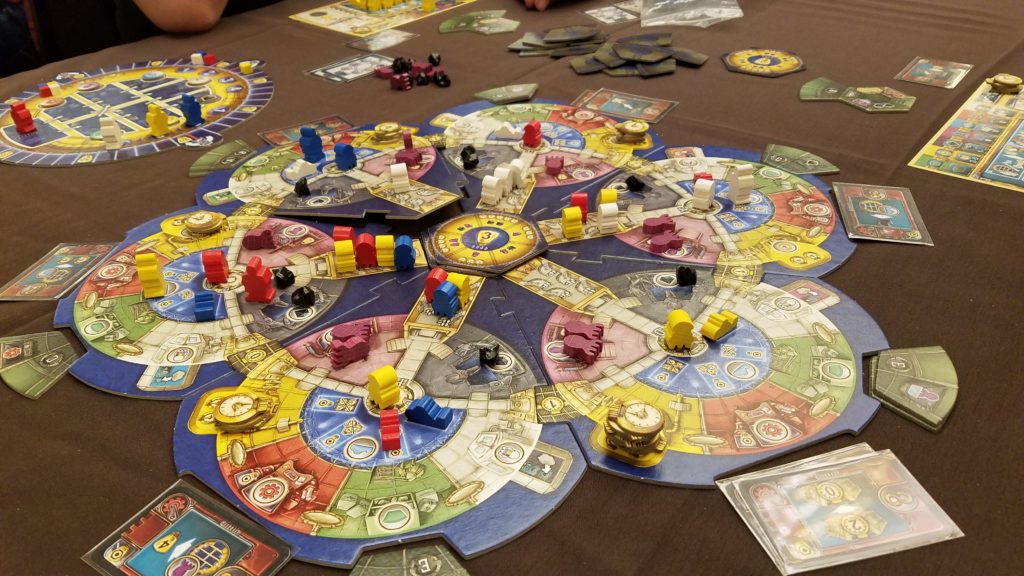 My fifth game of the day was AquaSphere. I love this game — it's so colorful and kinda mean! And who doesn't love purple octopods?!? I just bought this game, so the rules were fresh in my mind and I taught my friends how to play.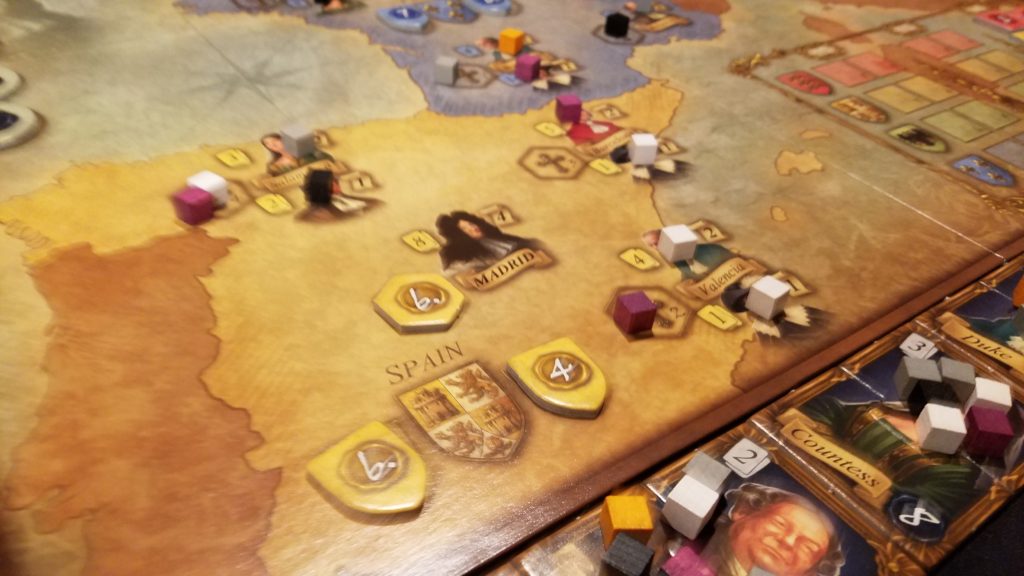 We then played a game of Royals, which is always fun! Royals is old hat to this group of friends, so it was nice to end the first day with something we all knew how to play.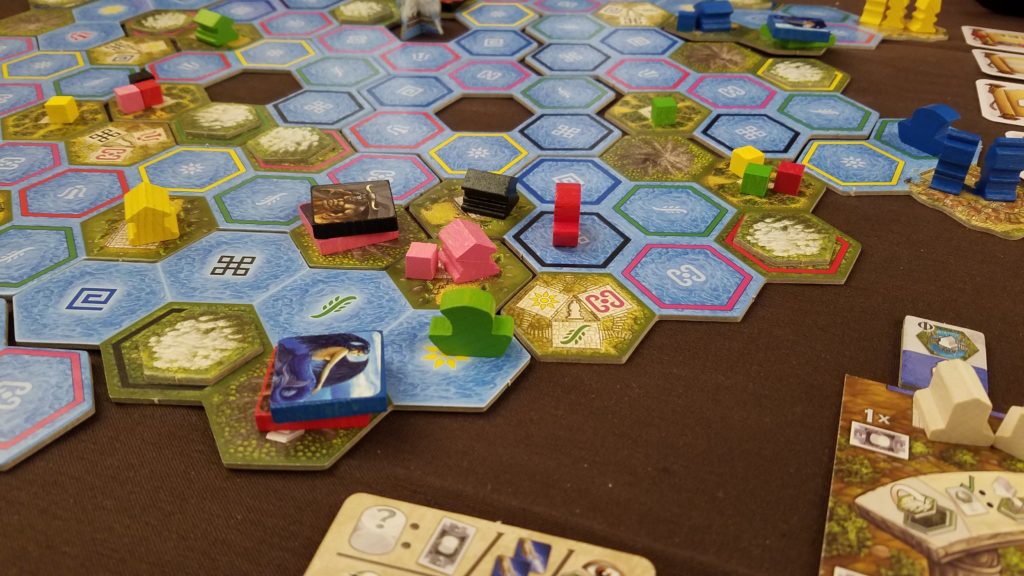 Wednesday: I got a chance to play Oracle of Delphi with Annette (@nettersplays), who I met for the first time in real life. She's super awesome and sweet, and we discovered we're both from the same hometown area. Small world!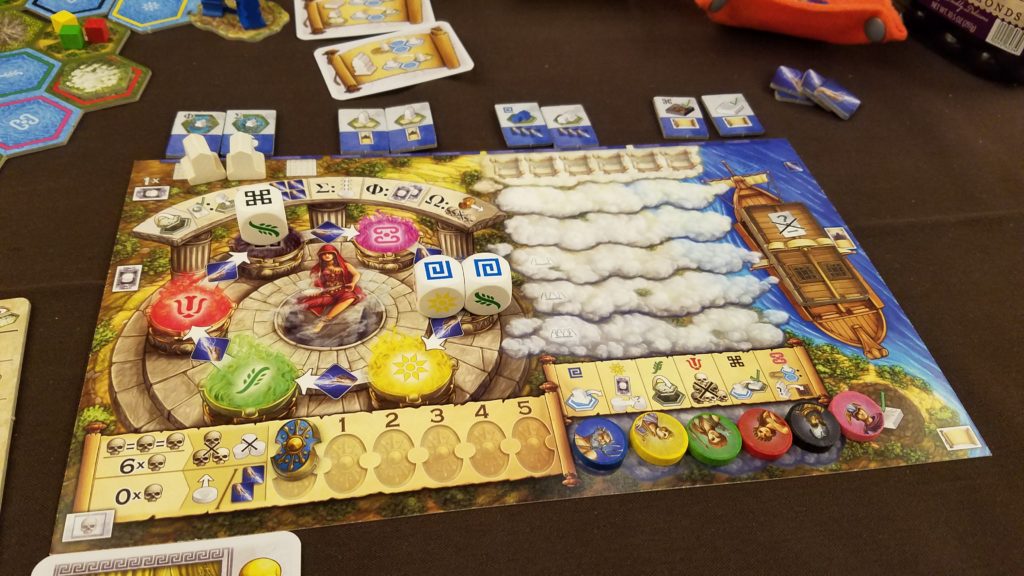 Oracle is  a Stefan Feld game, and I was surprised to see how light it was for a Feld game! The hardest part of the game was seriously assembling the board, which had various shapes containing colored hexagons to represent islands and sea spaces. But once we were all set up, the game played really, really quickly. And weirdly enough, no point salad! You roll your dice to determine which actions you can take, and you have to be the first one to complete objectives and return to Zeus to win the game.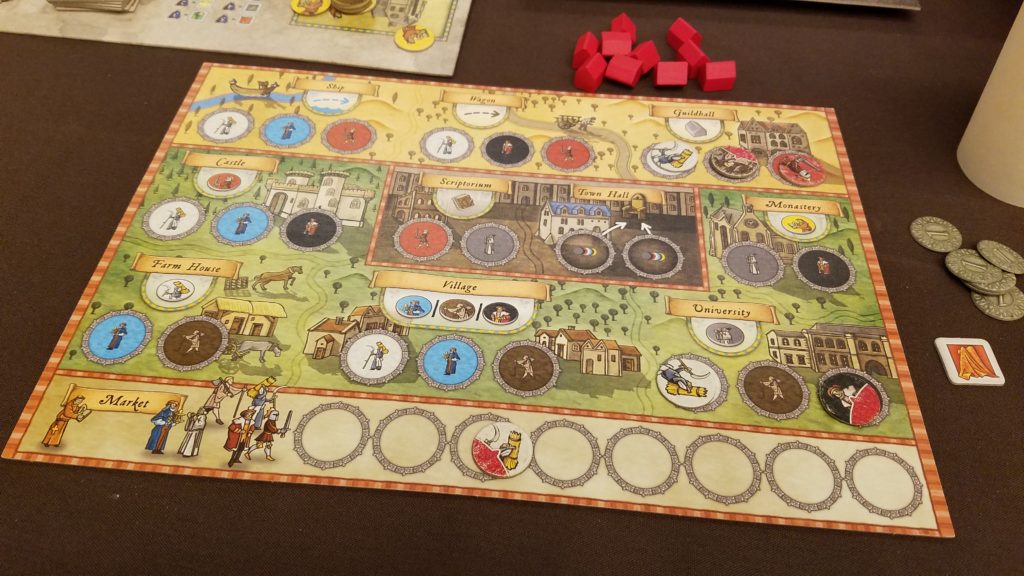 My last game on Thursday was Orleans. My two buddies stayed up late with me (I'm such a night owl) to play Orleans as we started a 4-player game around 1:30 a.m. We were among the small handful of folks still in the main ballroom gaming by the time we ended around 4 a.m. Who needs sleep when you're at a gaming convention?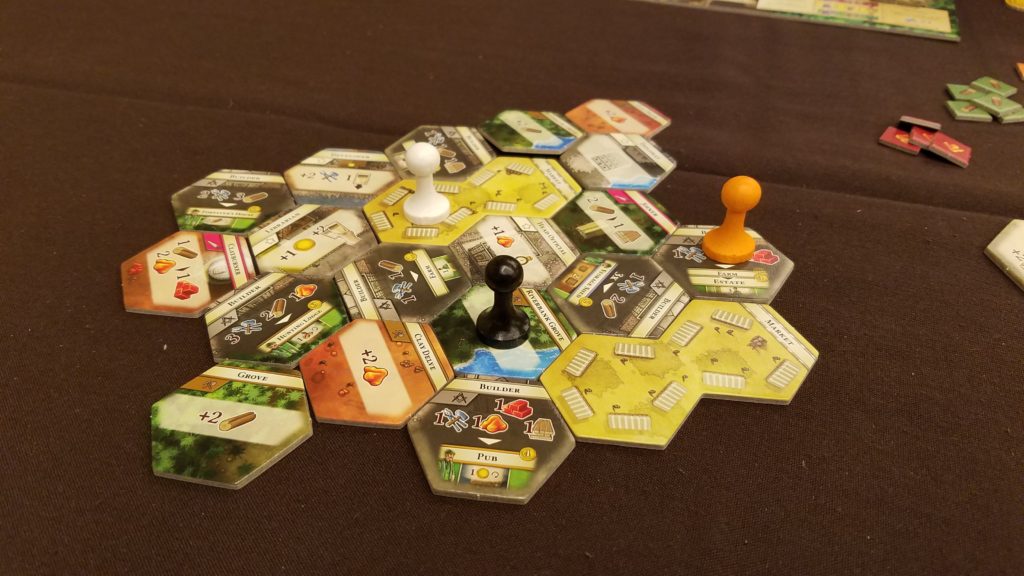 Friday: The day started way early as I met up with folks at 9 a.m. to play The Colonists.  I didn't get to bed until around 4:30 earlier that morning. This ended up being my favorite new game I played at BGG Con! Which I then later found out wasn't being sold in the exhibitor halls. Super duper sad panda!!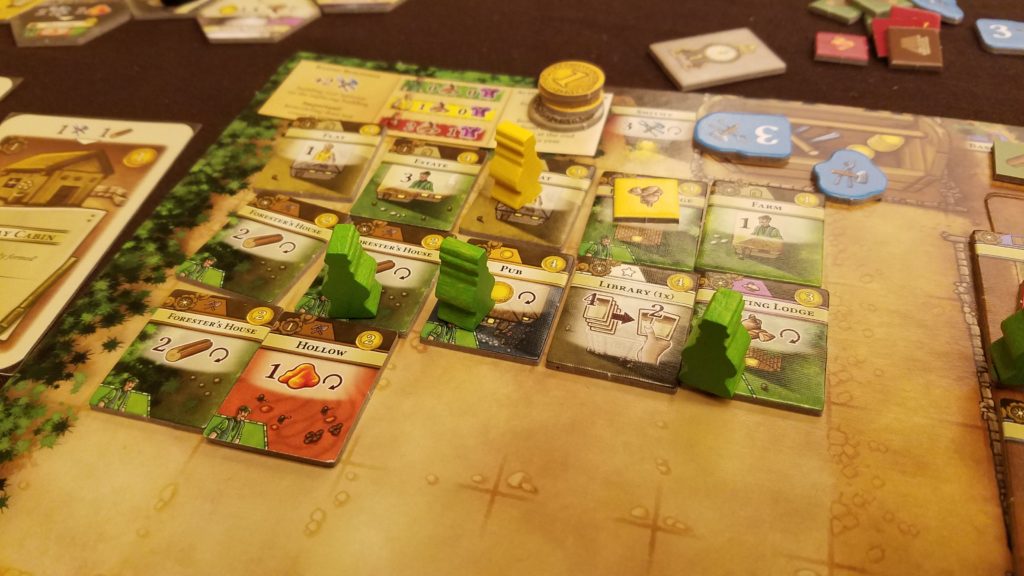 It plays like your standard euro game — you are gathering resources to build up an engine and hire workers for your worker board. Meanwhile, the main board is being built each round, and each hex has a different action you can take. Your actions are limited to 3 location movements away from your pawn. Each turn you move, take an action, repeat twice more. There are also markets that enable you to jump from one side of the board via markets, but you're basically bound to where you're located. Also, if somebody is already on that location, you need to pay him to use that action. It's so good. I totally want to buy this when it becomes available.
Next up, I played Wasabi. This game is freaking adorable! You are sushi chefs trying to make the best sushi rolls in this tile-laying game. You can work off other people's tiles, and you get bonus points for completing rolls "with style," meaning in the exact order that's shown on the card. I ended up winning this game, partly because I finished my 5-ingredient recipe early on before the board got filled up. Alas, this game is out of print!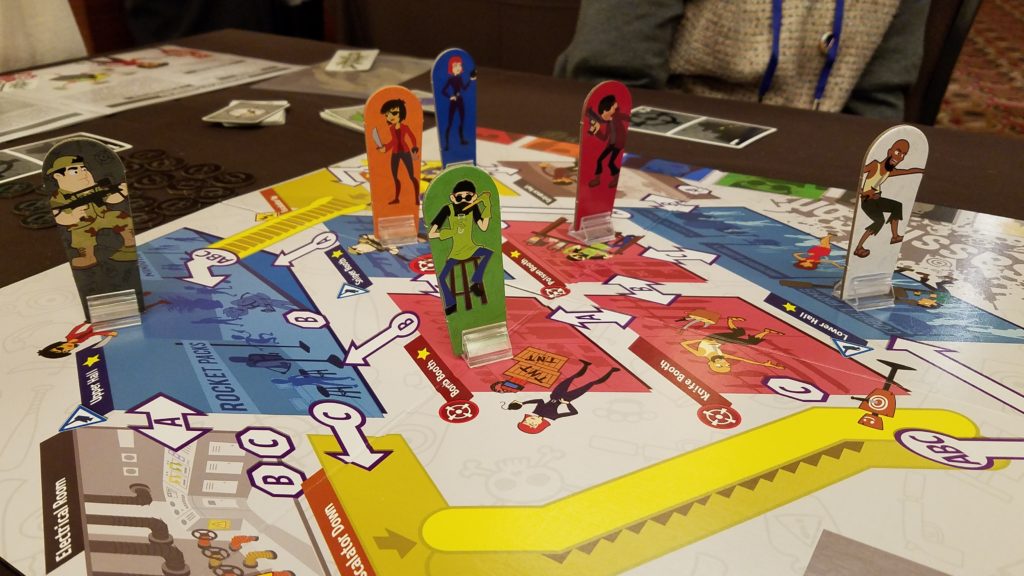 I then learned how to play AssassinCon. This was a fun hidden-role game in which you're all assassins at a convention trying to kill each other. You know who your target is, but watch your back, as you don't know who is trying to kill you! There was also a real life game being played at BGG Con, as folks were trying to find their targets. Too much fun!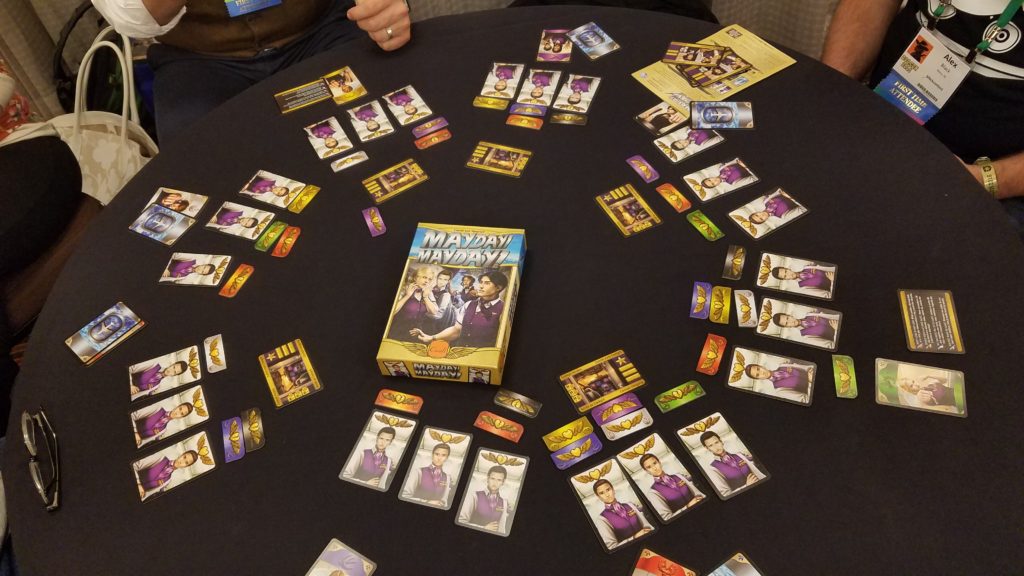 After dinner, my friends and I played Mayday! Mayday!, with Mandi (@boardgamerpinup), who is super fabulous. Mayday! is a hidden-role game about getting the right crew into the cockpit. Your job as a good guy is to keep the bad guys from advancing. Each player knows something about some one else, but nobody has perfect information in the beginning. This game can be very stressful!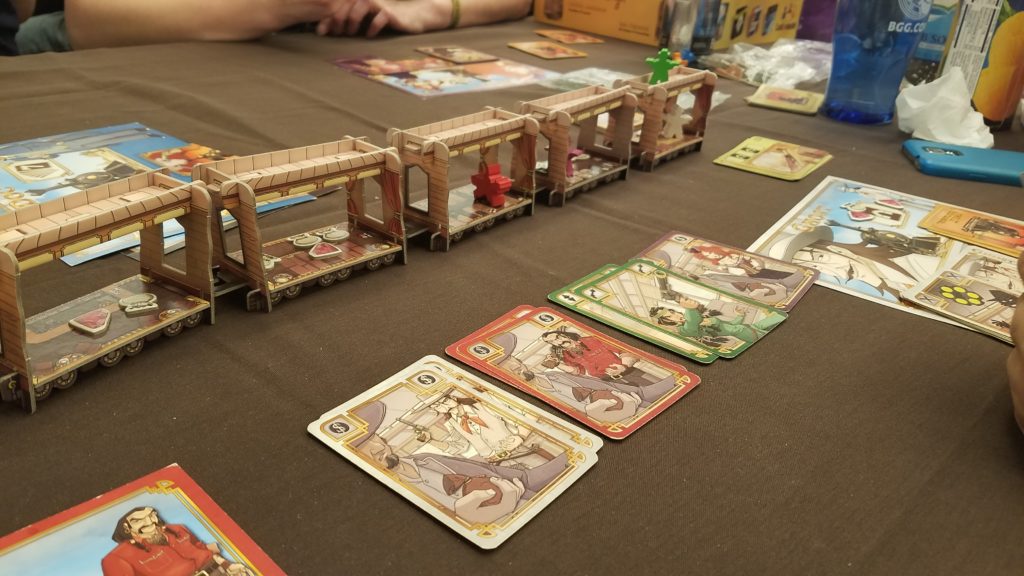 I ended my night with some light gaming with girlfriends. We played Colt Express as it has become an annual tradition among us at the con. We also wanted to play Coconuts but it was checked out from the library. And then we played some Wits and Wagers to end the night and relax.
Saturday: I started the day sleeping in a bit, and then I met up with The Game Boy Geek to be interviewed to his Live Q&A. This was so fun and a little bit nerve-wracking as I'm not used to being in front of the camera. I talked about being on Team Geek, which is always such a blast.
I also popped into the Mega Civilization game being played that day. I love, love this game, but I had already made plans to do other things on Saturday and couldn't devote a whole day for it. Next time!
My friends then decided that I should teach them how to play Battlestar Galactica. It's one game they all owned but never actually got on table, and since it's one of my favorite games, I was more than happy to introduce them to the awesomeness that is BSG.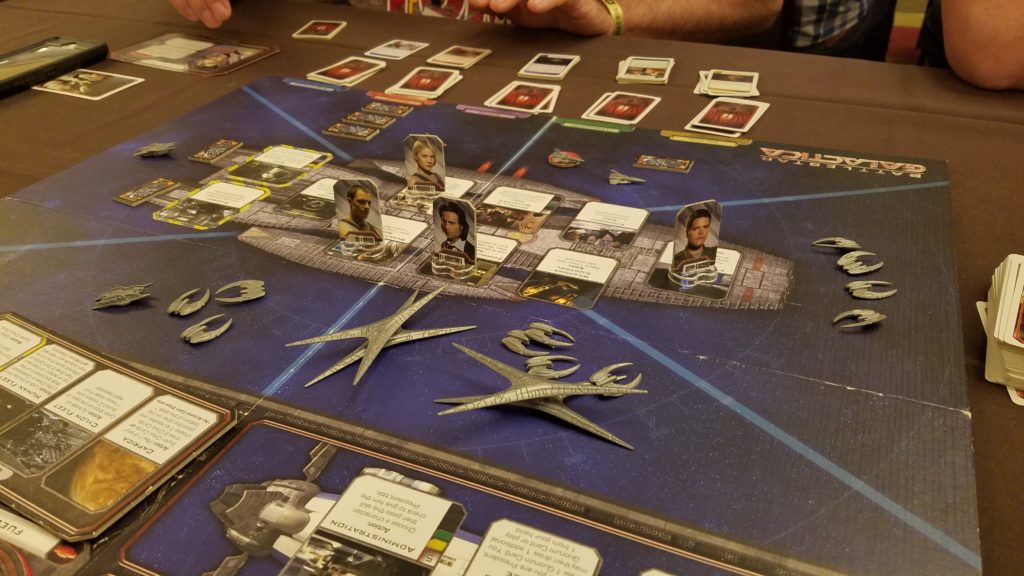 The verdict 2.5 hours later? They loved the game so much! And this is despite the fact that I accidentally made the loyalty deck wrong, with only one cylon in the mix. (I have no idea how that happened; I even fanned out the cards to show them how to create the deck. I can only assume that a card was stuck to another card as it was a library copy we were playing with).
After dinner, I played Glux, which is an excellent abstract game. It's easy to learn but very thinky in a good way. So thinky in fact that I forgot to take a photo of it  because my mind was so focused on moving my pieces around!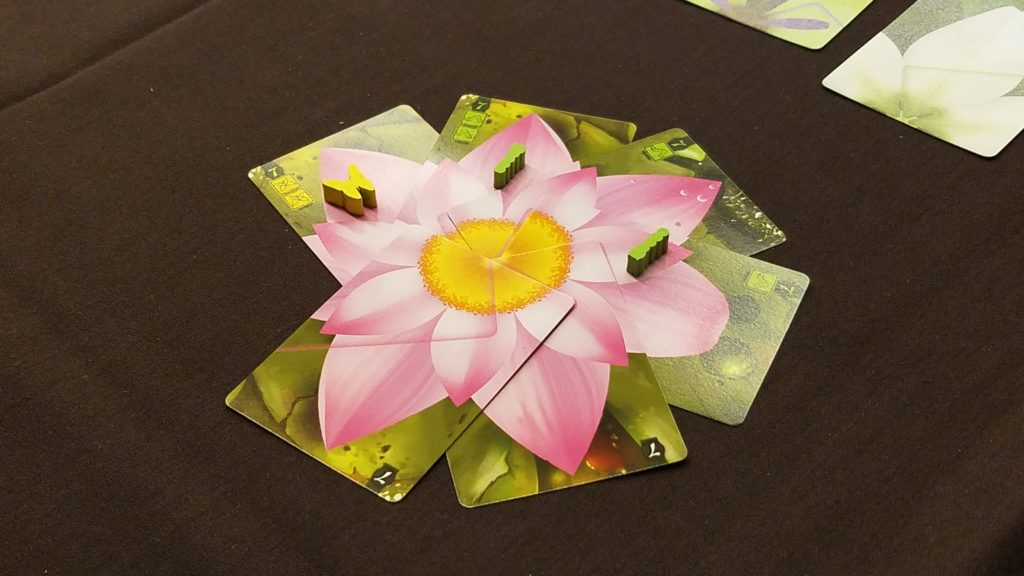 I then played Lotus, a card game in which you're creating these gorgeous flowers. I'm such a sucker for pretty games and fell in love with the artwork! I also like placing down my pretty petal to basically screw over your opponent and take the VPs. Very zen!
I then snuck over to the Hot Games section before it closed to play First Class, which is basically Russian Railroads the card game. This game plays super fast! With rules explanation and 6 rounds, we finished in an hour. And then it got all point-salad insanity at the end to maximize your points by spending coins at the last minute. I would much rather play Russian Railroads, but if you have limited time, then this is your game.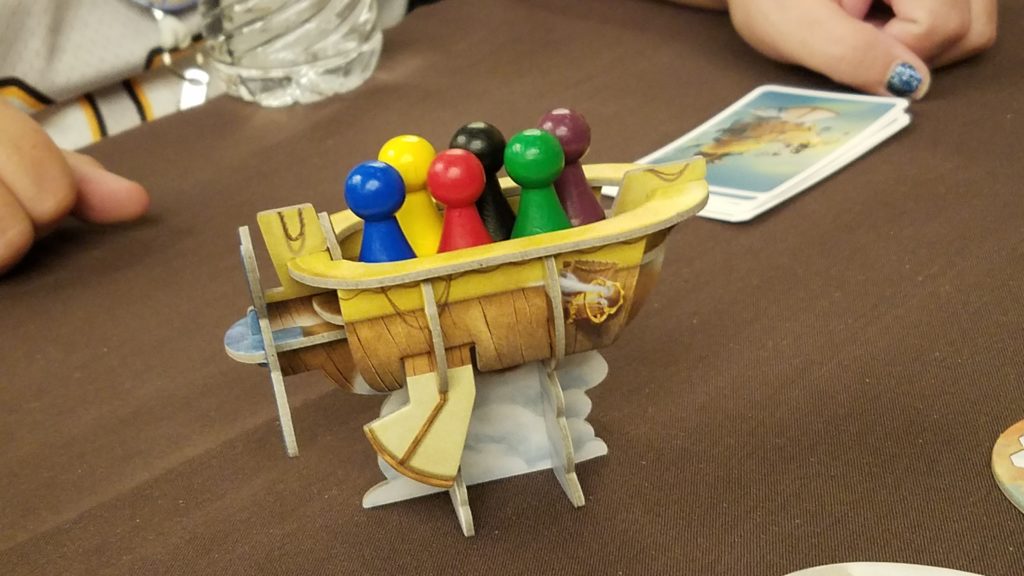 The last game I played on Saturday is this adorable push-your-luck game on a steampunk aircraft called Celestia. The captain rolls the dice, and before playing any cards that could possibly meet objectives, you must decide if you're staying or going. The captain can say whatever he wants about the cards in his hands. If he can play cards, then the aircraft continues and you guys get more points. Or you can crash and then nobody wins anything.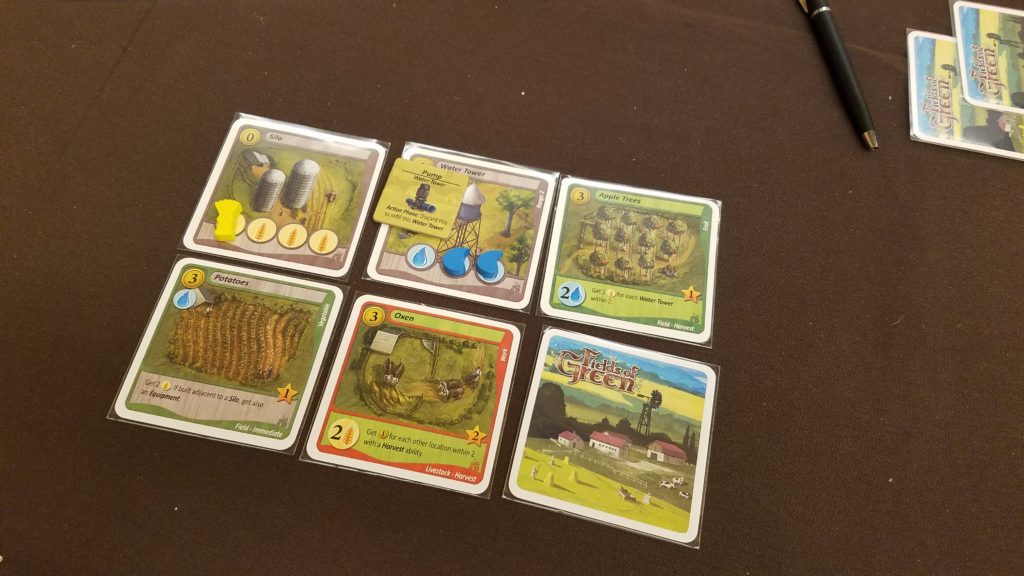 Sunday: The last day of BGG Con! So sad, so sad. I started my day at 10 a.m. by playing Fields of Green and meeting Nicholas (@icallyellow) for the first time.  It's always so cool meeting and gaming with folks you know from online. Yay for social media!
In Fields, you are trying to build your farm and economy by placing tiles strategically so that resources can reach it. It's a re-theme of Among The Stars, but better I heard since the building decks are separated, which means you can pick any combination of cards that you want and aren't stuck with what necessarily was handed to you. From there, you draft cards and play them.  At the end of each of the four rounds, there's a harvest where you must pay resources for the buildings that require it.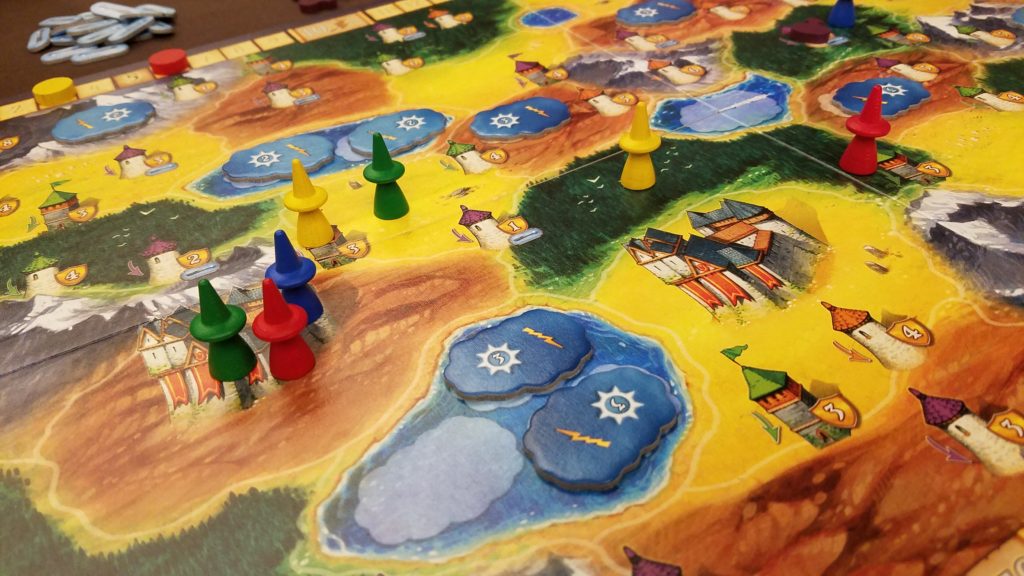 Lastly, I played Broom Service, which I really enjoyed! It seemed like a light game with its colorful board, but there's some strategy involved in which cards to play. It has an element of Glass Road, in which cards are drawn out from your hand, but Broom is way meaner as the last person to play the card is the only person who benefits from that action. Very witchy! Plus, adorable witch meeples. I then grabbed my stuff and went to the airport to fly home.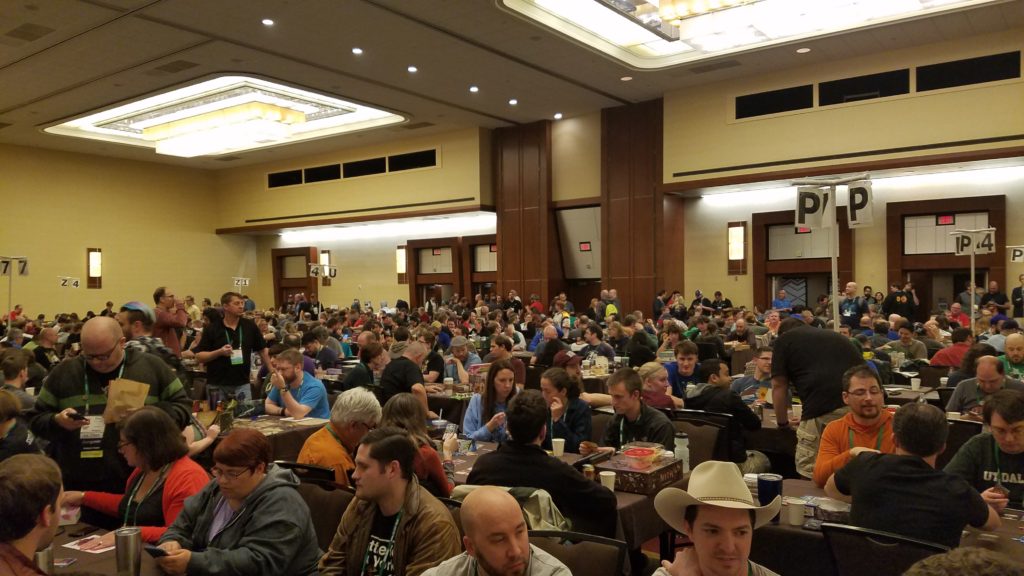 And just like that, five days of BGG Con ended. To recap, I played 23 games, ranging anywhere from 30 minutes to 3 hours. My favorite game I played at the convention is The Colonists. I need to get a hold of a copy soon!
In the meantime, happy gaming! Stay tuned for my next post for BGG Con.  And tell me about your BGG Con experience!