Out of my closest group of friends, I'm the biggest gamer. People enjoy coming over to my place (even though it's the smallest location among our homes) to play games and learn new ones. I like having a variety of games for different group sizes and levels of gaming. There are some friends who like meaty eurogames while others prefer party-type games.
For introducing games to non-gamers, you have to understand your audience. Diving immediately into a heavy eurogame will leave new gamers frustrated and confused, which is no fun for everybody.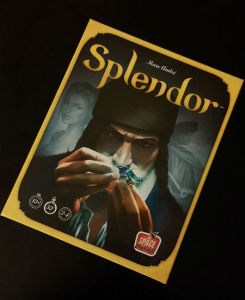 One such game that new gamers can jump into is Splendor. It's easy to learn and fast-paced, but has enough strategy to satisfy even medium-heavy gamers. And a game is about 30 minutes.
In Splendor, you are a rich merchant trying to purchase gems in order to buy higher-value cards and win prestige with the nobles.
The components are well-made — cards and sturdy poker chips — and there is no board. The game plays 2 to 4 players. First player to score 15 victory points triggers one last round, and then the person with the highest victory points wins.
Continue reading Splendor: Easy to learn, complex enough to satisfy →