I finally decided to really crack open my copy of Battlestar Galactica. I recently purchased this game so that I can hold up my own copy for my epic BSG photo at Phoenix Comicon. Yes, I'm that nerdy. Anyway, I was up until 3 a.m. earlier this week getting my copy ready for game day. (I was having trouble sleeping and thought this was better use of my time rather than getting frustrated tossing and turning.)  I had to add the resource dials to the game and punch out the cardboard bits, but what took the most time was sleeving 238 cards.
For the base game, there are 110 large cards and 128 small cards. I ended up purchasing 2 packs of Mayday Chimera sleeves and 2 packs of Mayday Mini USA sleeves for the game. Why would somebody spend extra money to sleeve their cards? Because, my friend, in hidden role games, it's crucial to keep cards in pristine condition so that nobody can figure out what you have.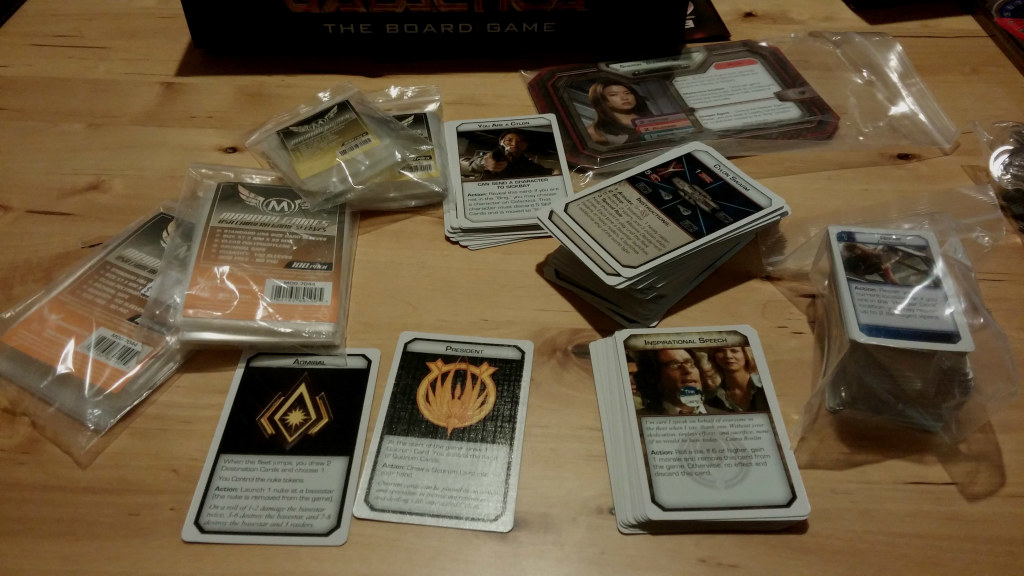 One of the most fun parts of Battlestar Galactica is not knowing who is on your side. Each player gets dealt 2 or 3 loyalty cards through the course of the game, and it's important to keep those roles a secret. There's so much secrecy in the game in terms of cards for the skill check and what crisis is coming up that I opted to sleeve my cards. A big mechanic of the game is spiking skill checks if you're a cylon, and if people can differentiate your skill cards, you're at a disadvantage as the humans will immediately work toward brigging you. My favorite part of the game is throwing accusations around and making people squirm to see if they're a cylon. Plus, cards are also protected by the constant amount of shuffling in the game.
Another game I decided to buy sleeves for is Twilight Struggle. This is another game where have to keep your action sequences a secret. If your opponent knows which card you're going to play, he can successfully block your actions and plan accordingly to take you down. Plus, there is quite a fair amount of shuffling in the game, and the sleeves of course protect your cards. Another game I purchased sleeves for is Mysterium. There isn't really a lot of shuffling in this game; I mostly purchased the sleeves to protect the beautiful artwork in this game.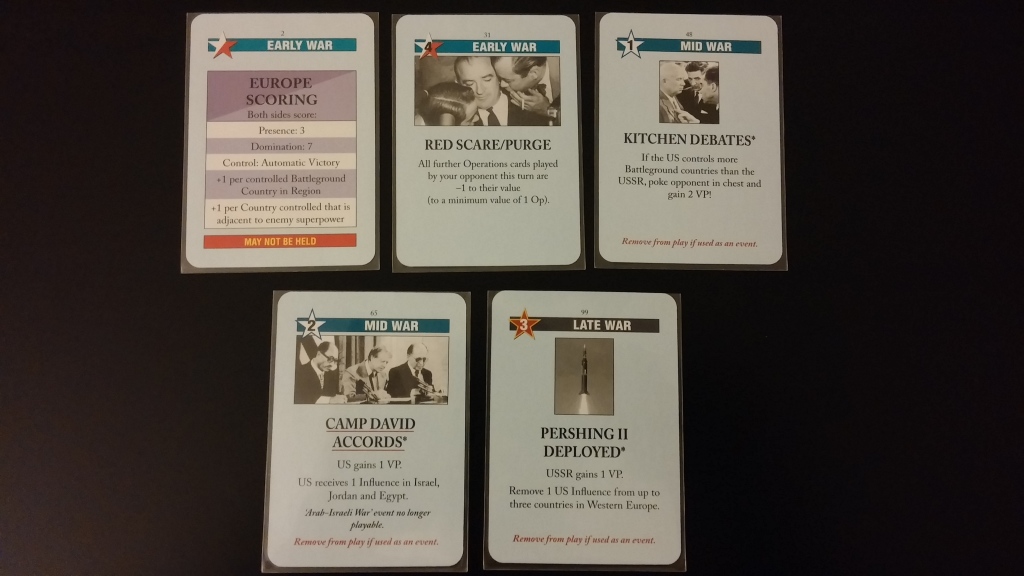 I am by no means a game collector. When I purchase games, I intend to get the maximum amount of plays with them. I don't consider myself OCD about the game board and its pieces. Games will get played, and wear-and-tear signs, in my opinion, are hours and hours of enjoyment among friends and fellow gamers. I don't obviously purchase sleeves for all my games, because that would be a little ridiculous and expensive, but when hidden roles and secrecy are a big component of the game, I think it's a wise investment to do so. You can breathe a little easier knowing cards are protected, and that certain people won't be able to spot what's on the other side of the card based on the weird beer stain in the top right corner of the card.
If you're looking for card sleeves for your games, boardgamegeek.com is a great resource. Here's a pretty comprehensive list for games showing card sleeves from multiple brands. For my BSG game, I purchased sleeves from my Friendly Local Game Store — Game Depot — in Tempe, but you can purchase sleeves online anywhere from the company itself, to amazon.com or coolstuffinc.com, which is another great board-game website. Watch out though, free shipping at coolstuffinc.com is $100, and you can easily find yourself adding more and more to your shopping cart!
Who out there sleeves your games and for which games?