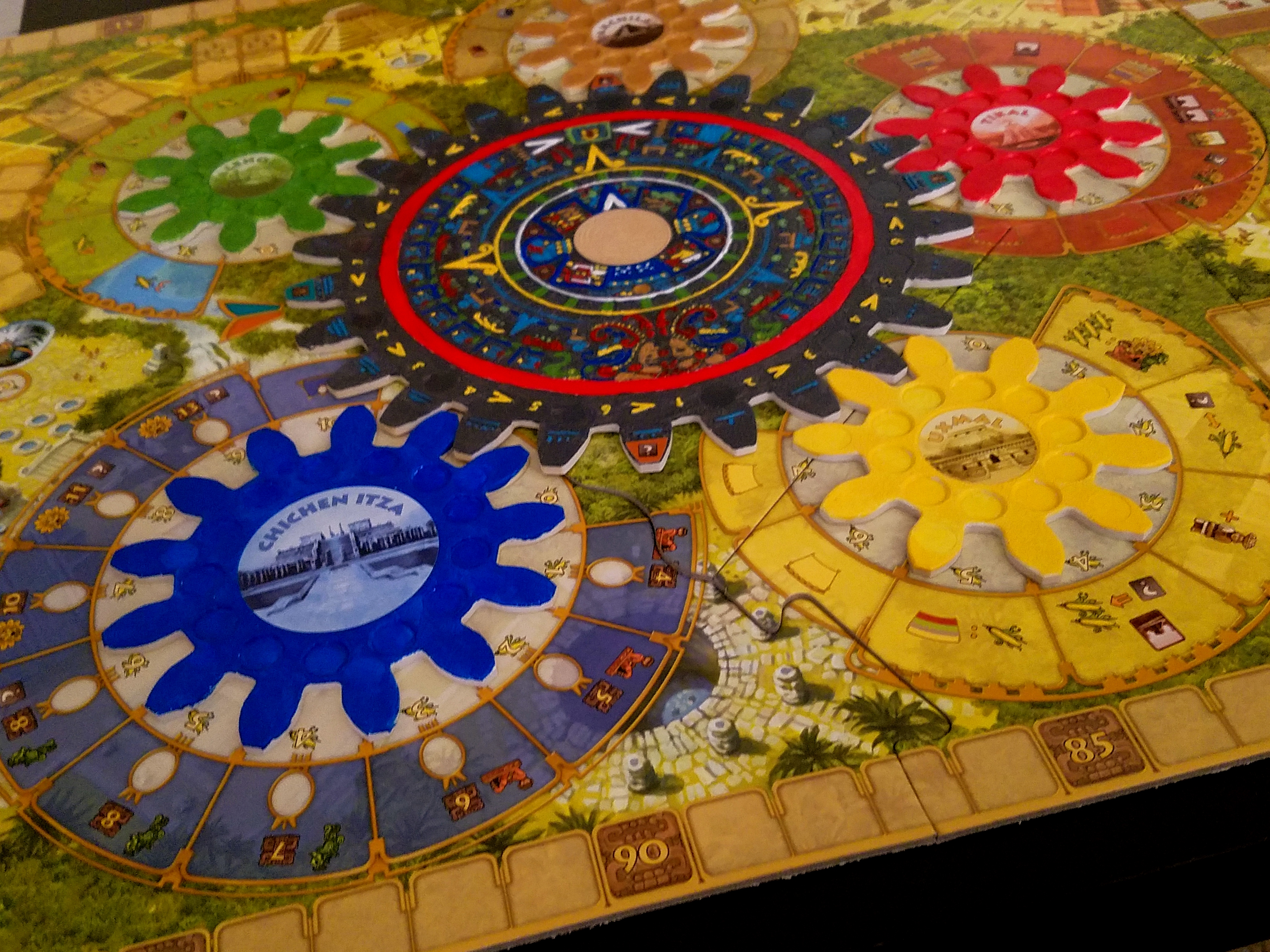 Tzolk'in: Painting my Mayan calendar
Tzolk'in: Painting my Mayan calendar
I first learned to play Tzolk'in at BGG Con in 2015 and just fell in love with the game. I was totally fascinated by the wheel mechanic, plus the little skulls are pretty bad ass. My friends who had taught me how to play the game mentioned that people have painted their gears (the gears are beigey-white color out of the box), so naturally I Googled some images and decided that if I should ever own the game in the future, I'm totally painting the gears.
Well, that time is now! I finally bought a copy of this game about two months ago but haven't had the time to commit to such an undertaking. Since my friends and I recently have been getting into sprucing up our games with 3D printing, I'm currently in this mood to do something crafty all the time!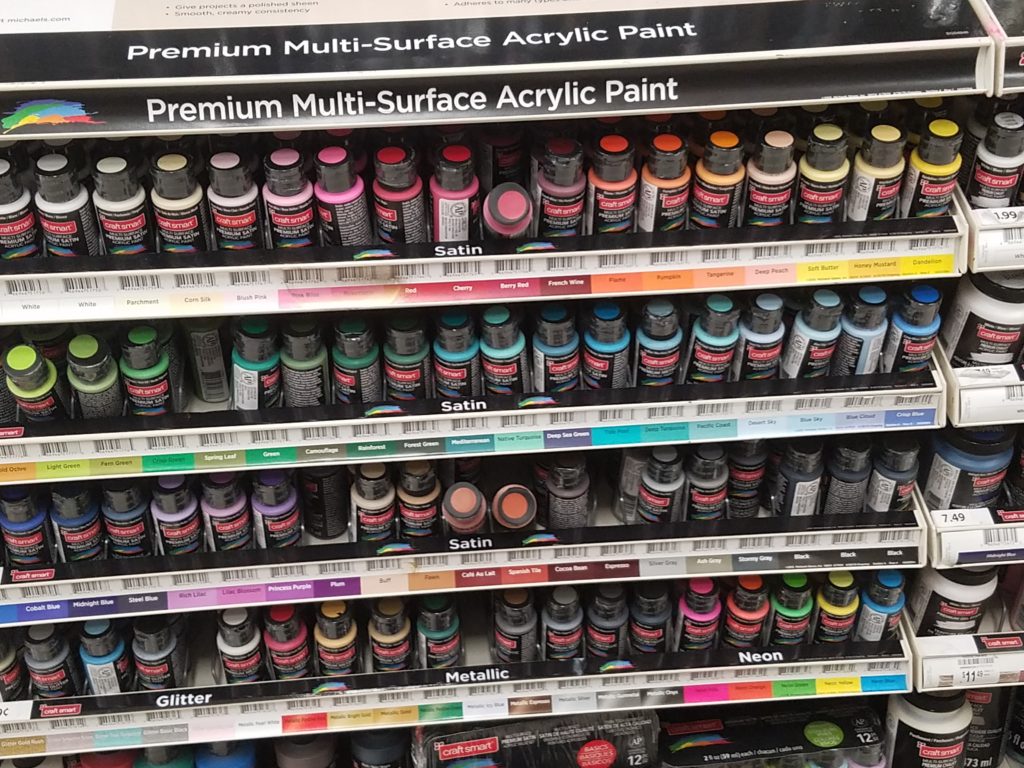 First off, don't attach your gears yet to the board game. It'll be much easier to paint the gears unattached. Thanks to advice from one of my craftiest friends Janelle, I went to Michaels (with a 50% off coupon for one item) and bought a bunch of art supplies:
Acrylic paints (fawn, spring leaf, white, stormy gray, tide pool, yellow, blue and red) — 99 cents each.
Set of brushes (the finer, the better) — $4, after coupon.
For the primer and sealant, I went to Home Depot as it was cheaper there instead of Michaels. I purchased:
Rust-Oleum flat white primer — $4.
Rust-Oleum crystal clear enamel — $4.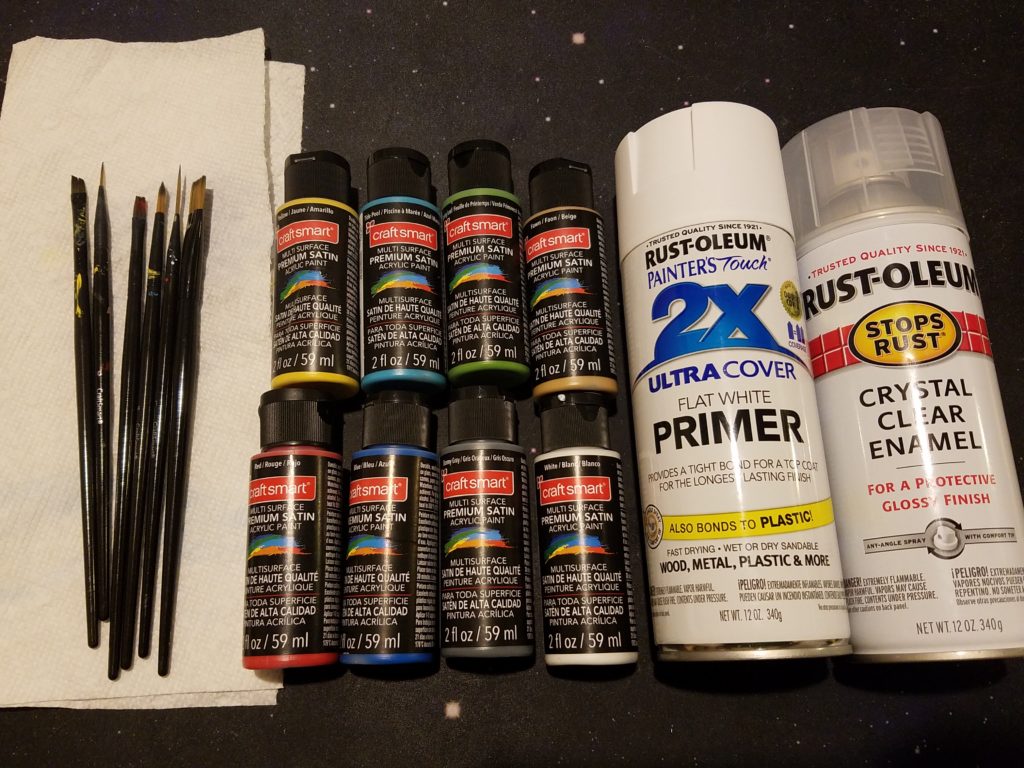 I sprayed the primer all over the gears and let them dry overnight. I then started painting my smaller gears first, as I was just using one color for each of them. I picked colors that matched its location on the board. I wanted them to be bright and cheery!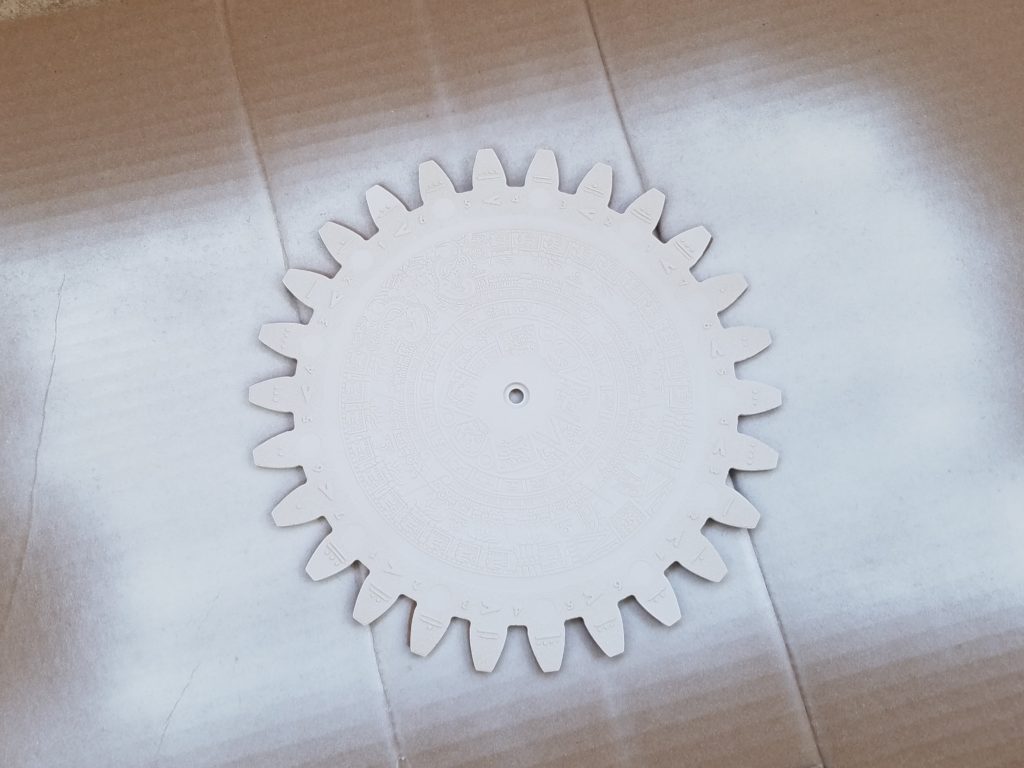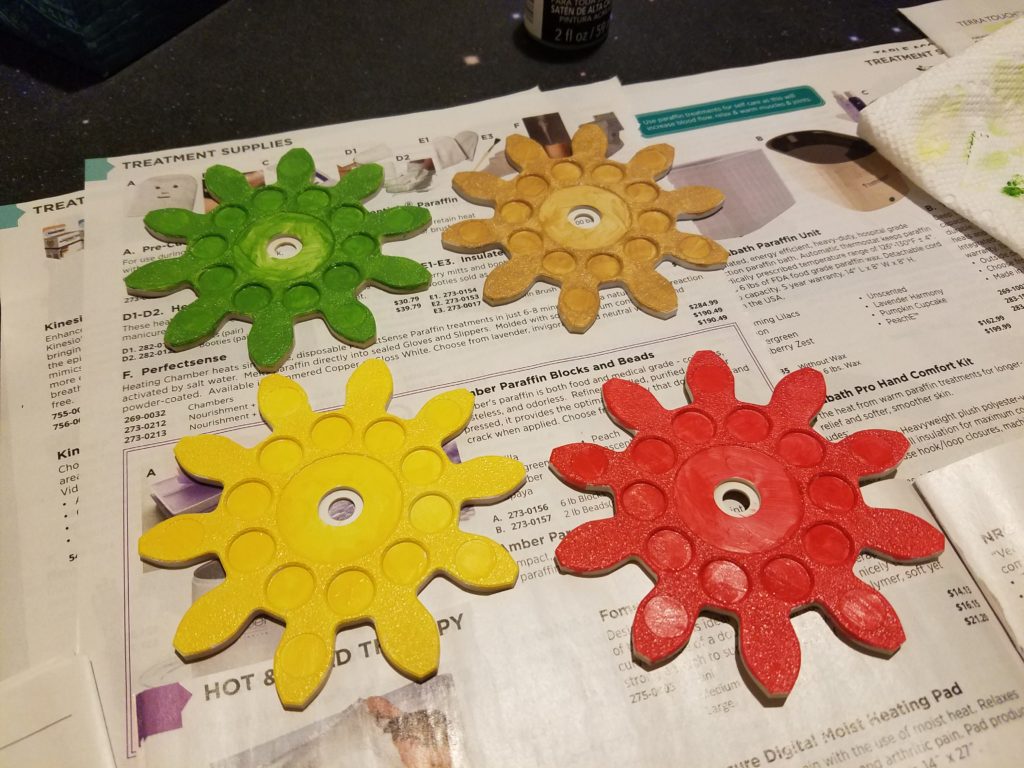 I then tackled the big boy — the Mayan calendar. I painted the entire wheel with the stormy gray color because at that point, I wasn't sure how detailed I wanted to be with the painting. The gray color would give it a nice background regardless of what I would do.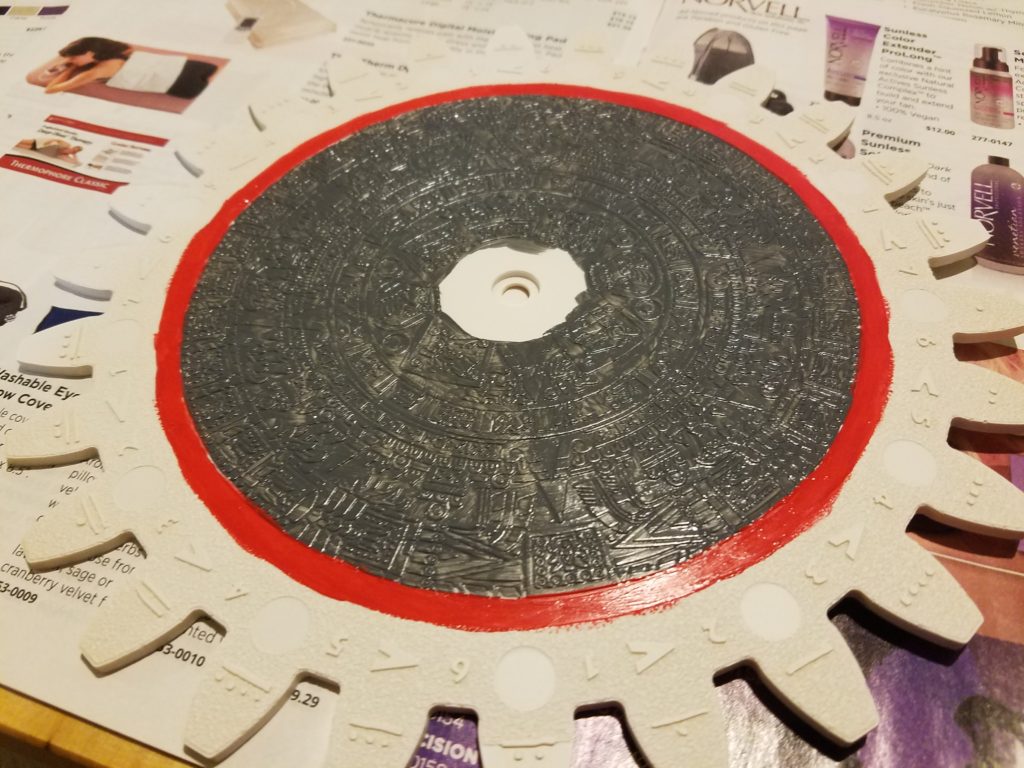 Then slowly but surely, I'd pick a color and paint something, repeating that same pattern around the board if the pattern repeated. My friend asked if I had pre-planned the colors and patterns before starting the entire job, and I said no. He said it would drive him nuts if he didn't pre-plan. I'm like, meh, I'll just figure out and eyeball and paint accordingly.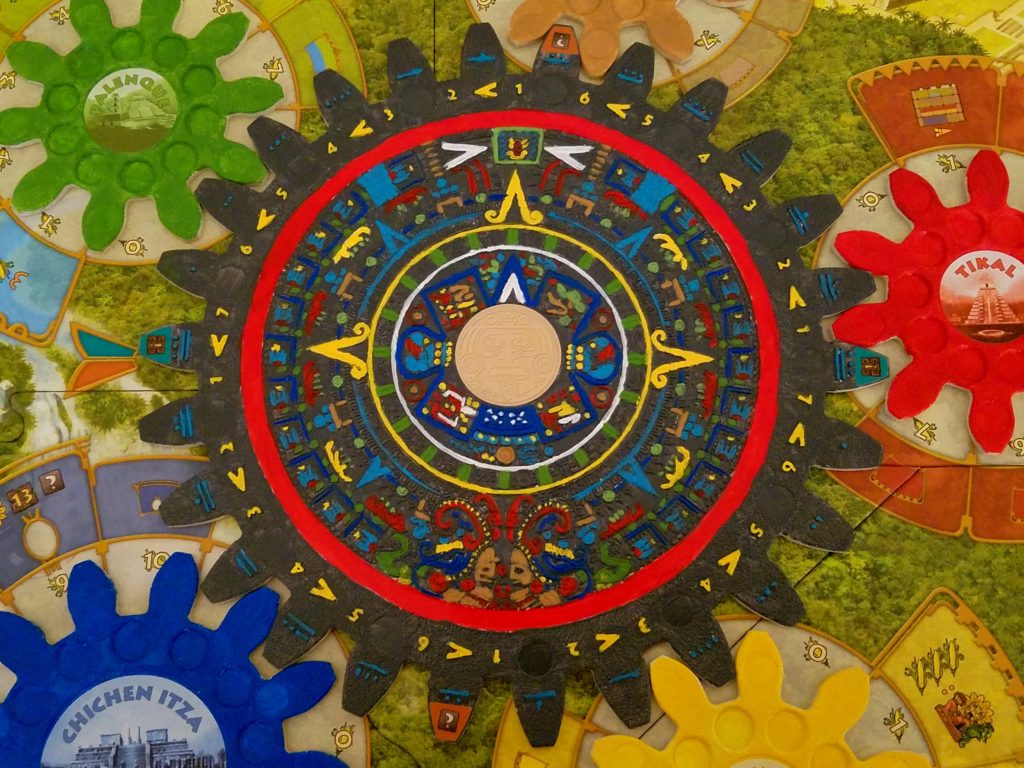 And that I did. I would paint for an hour or two here and then, over the course of a few days. I probably could've spent another day's worth of painting, but I didn't feel like painting in ALL the details.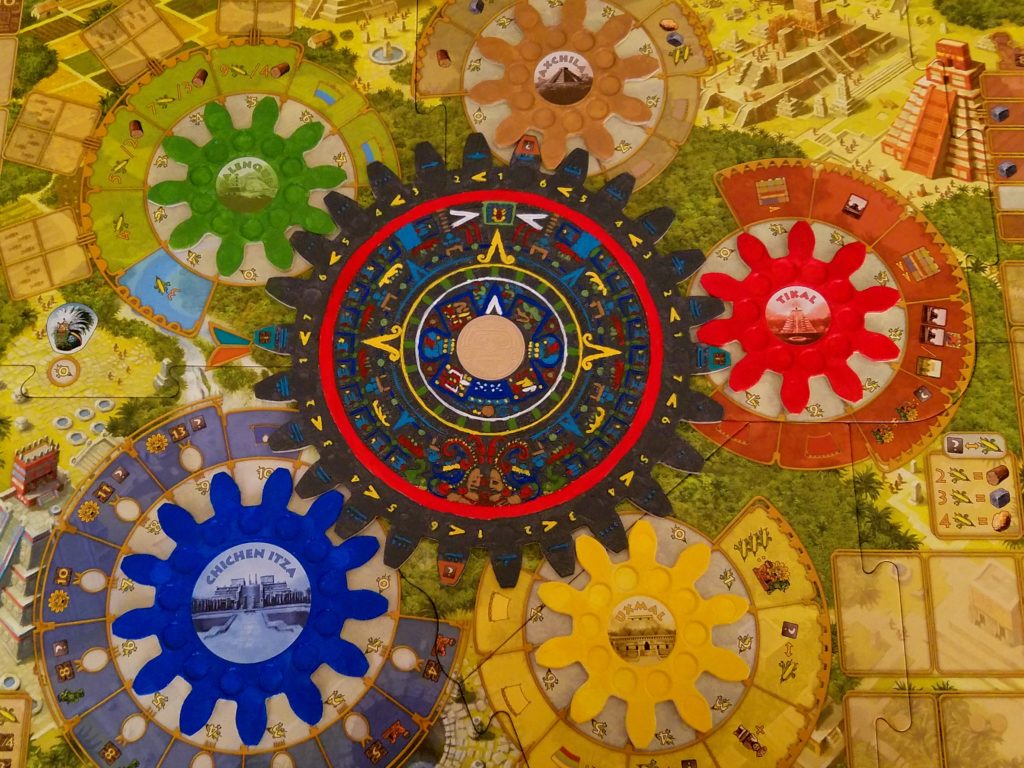 I then gave it a couple light coats of the glossy enamel finish (and let it dry for a few hours) and attached it to the game board. I can't wait to get this game on table! For my first paint job ever, I'm pretty happy with how everything turned out, despite it not being perfect and all. And now that I have a bunch of paints and art supplies, I'm looking to doing more painting in the future.