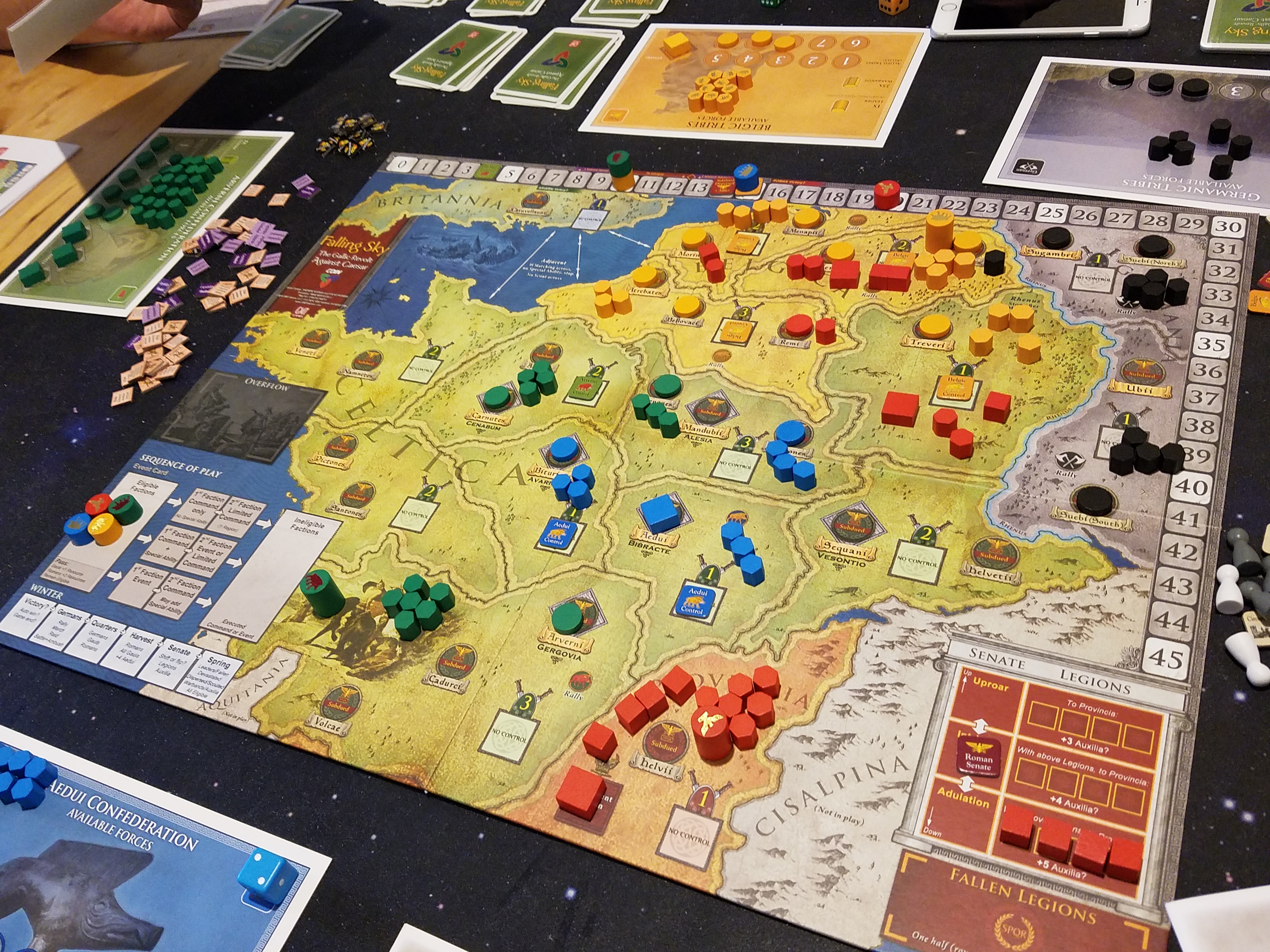 Falling Sky, Scythe, Marco Polo, Heartland: New games I've played recently
Falling Sky, Scythe, Marco Polo, Heartland: New games I've played recently
It's been a chaotic few weeks (personally and professionally), and I haven't been able to purchase any new games recently either, hence the lack of posts. But I have done some gaming (not as much as I would like) and here are a few exciting new games I've gotten a chance to play recently.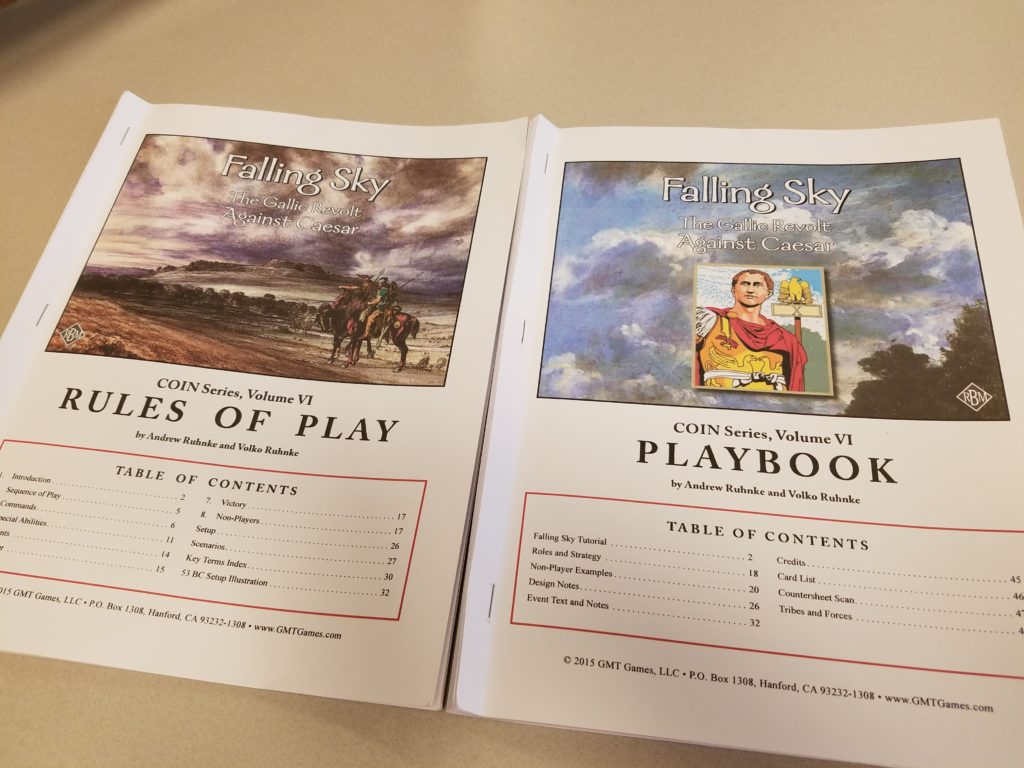 The first big game I've played recently is Falling Sky: The Gallic Revolt.  True story … I first thought that said garlic, not Gallic. I'm like, what is this game!? Shoot, we have games about peppers, it's not that far of a stretch that a game could be about garlic Anywho, this is a serious war game made by the awesome folks at GMT Games. It plays 1-4 players, from 180 to 360 minutes.
We played a 4-player medium-length campaign, which included the Romans and 3 other legions trying to take down Caesar and his his forces in Gaul. Falling Sky is part of the GMT's COIN series, games that deal with guerrilla warefare, asymmetric warfare and COunterInsurgencies. The legions all start with different resources and have different end-game goals as well, to represent what happened in history. It has a steep learning curve, has a 32-page rule book, and a 48-page play book!! (AND my friend created a Power Point presentation for us when he was explaining the rules.)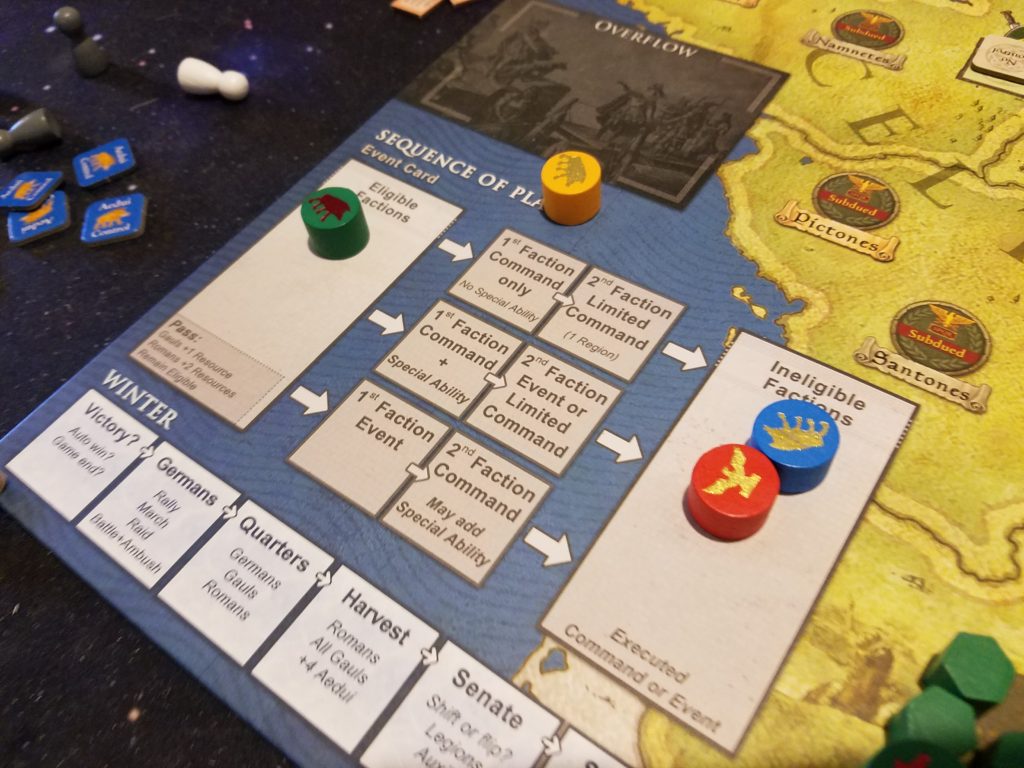 Falling Sky has an interesting mechanic where only 2 players can go in a round, which is determined by an event card. The current card flipped up, as well as the one after that, so players can plan their turns. On each card, the order of which legion can play first is printed. If one of the first players passes, the third in line has a chance to take a turn. The first player to take a turn determines what the second player can do. The first player can take an action, take an action and a specialty action, or trigger the event on the card. The second player then can only take a limited action, the event or a limit action, or an action and specialty action. And if you take a turn in this round, you will be ineligible for the next round.
Scoring happens when winter cards are drawn from the deck; you then check to see if anybody wins their game objections. If not, it then triggers a whole set of other actions, such as the Germans hoards coming to plunder your land.
The game went for 8 hours. And we didn't even finish.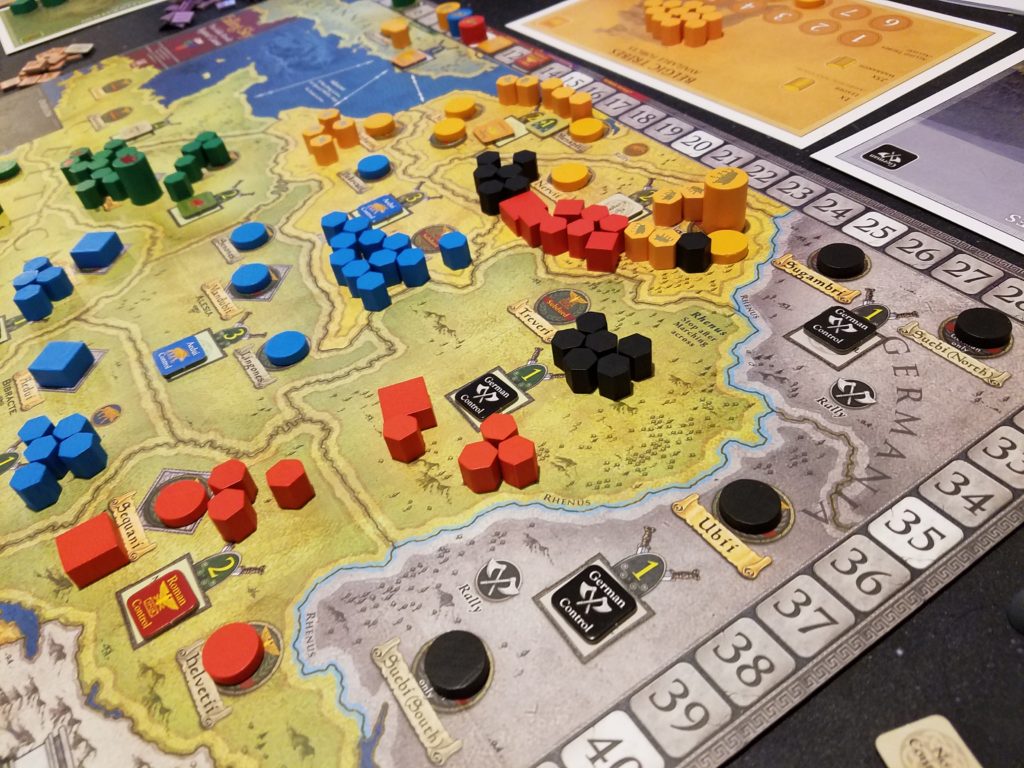 Yes, folks, you read that right. It ended up getting too late on a Sunday so we decided to call the game. After 8 hours! We decided to try playing this game during Labor Day Sunday, and it lasted about 7 hours. Again, we didn't finish!! Granted, the second time we played, we changed which legion we were playing, which forced us to basically to re-learn how to play that legion, slowing down the game substantially. We joked that in only 2 more game plays, we'll finally be able to finish this game in 4 hours!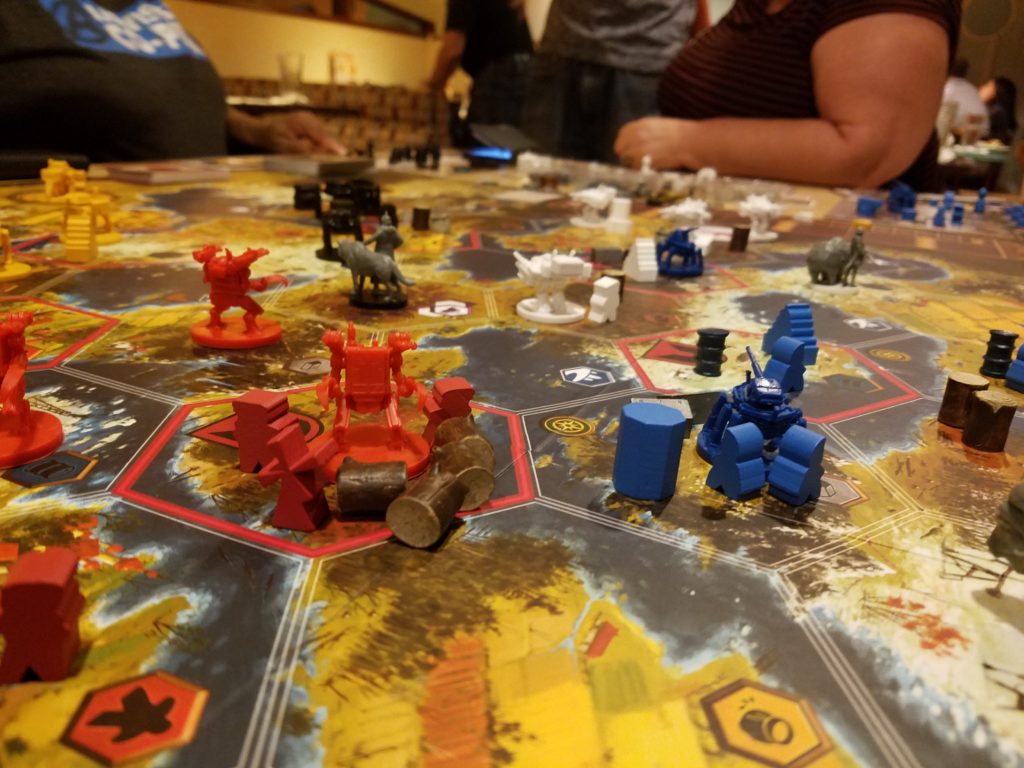 I also recently got a chance to play the collector's edition of Scythe. This game has some great components! Players are different factions in post-war 1920s trying to collect resources, develop mechs, build structures and controls areas. Each faction has its own special abilities (including unique miniatures!), and the first to complete various end-game and personal objectives wins the game. The player boards are also set up differently for each faction, as the same main actions don't correspond to the same secondary action. Also, each player cannot take the same action twice in a row (with the exception of Russia, which is the faction I played, because red!).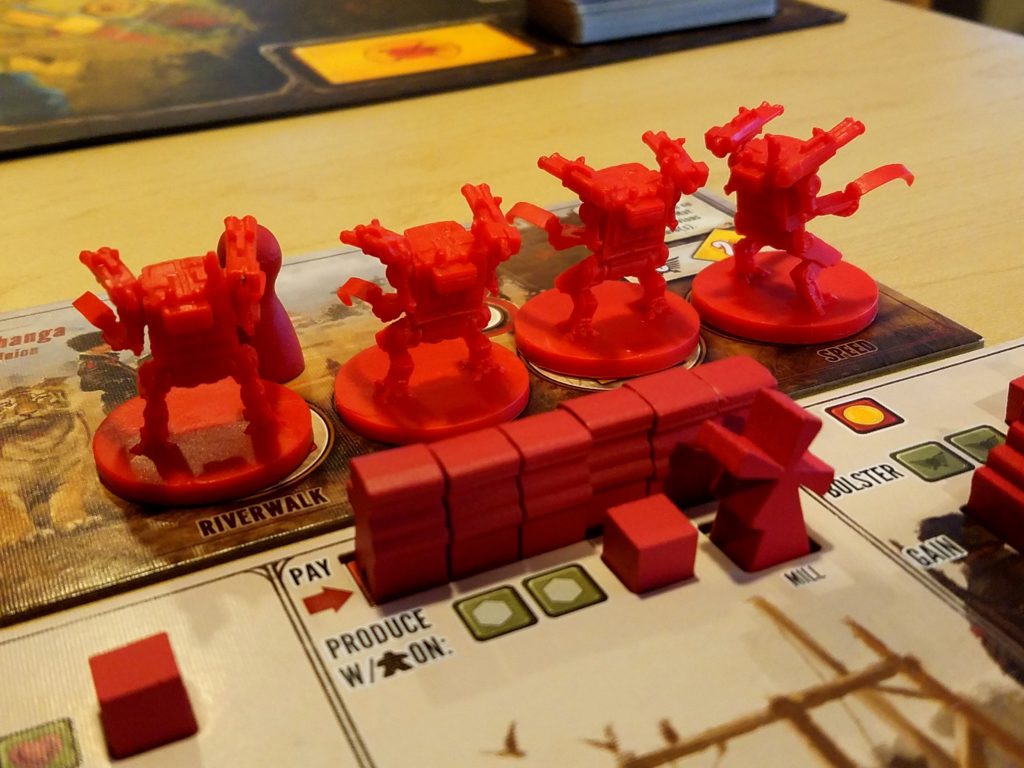 It looks like a super busy board with a million pieces on your player board, but it's not that hard to grasp after a few turns in and there's surprisingly a lot of depth in planning out your actions. And once people's engines get roaring, such as making it easier to build mechs and structures, it really speeds up the game. I ended up coming in second. Not too shaby as the guy who owned the game came in first.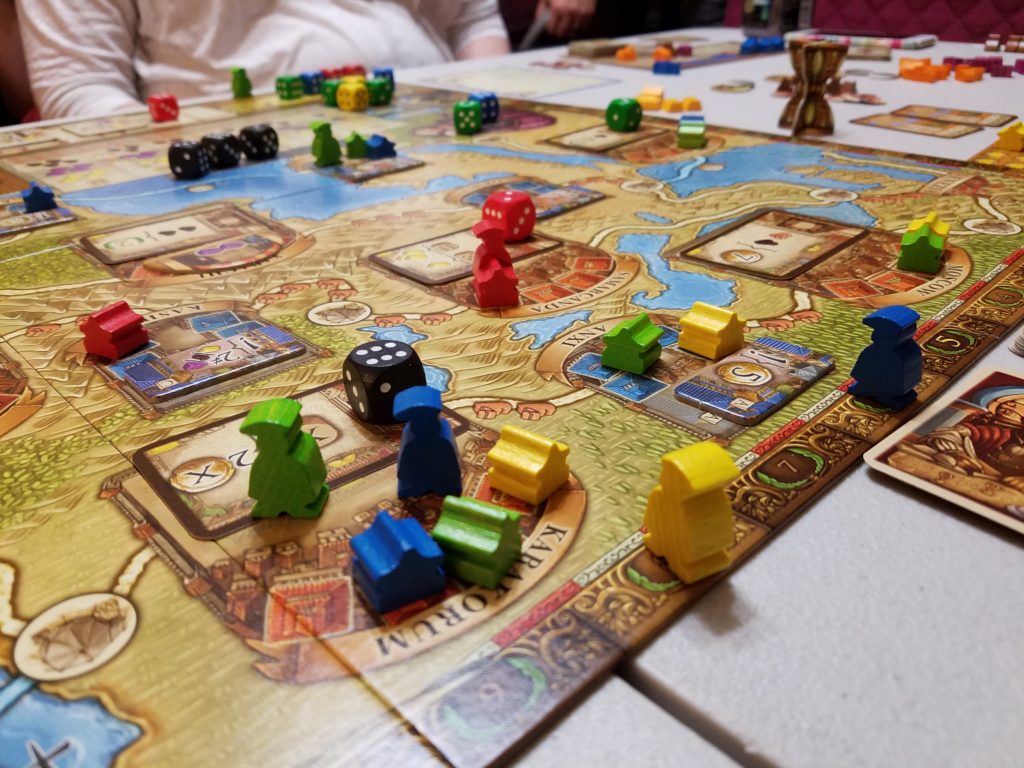 Another game I played recently is The Voyages of Marco Polo.  This is a dice-rolling worker-placement game that plays in about 90 minutes. You are trying to get resources to move across the map along Marco Polo's trade routes, as well as fulfilling trade orders. Each player also has personal goals to reach various cities. When a traveler stops in a city, you leave a structure there, and that opens up an action space for you in that city.
The game continues for five rounds — which goes really quickly and seems impossible to reach all your objective cities! I ended up winning this game because I got points for fulfilling the most orders. Also, this game has some adorable camel meeples. Yay!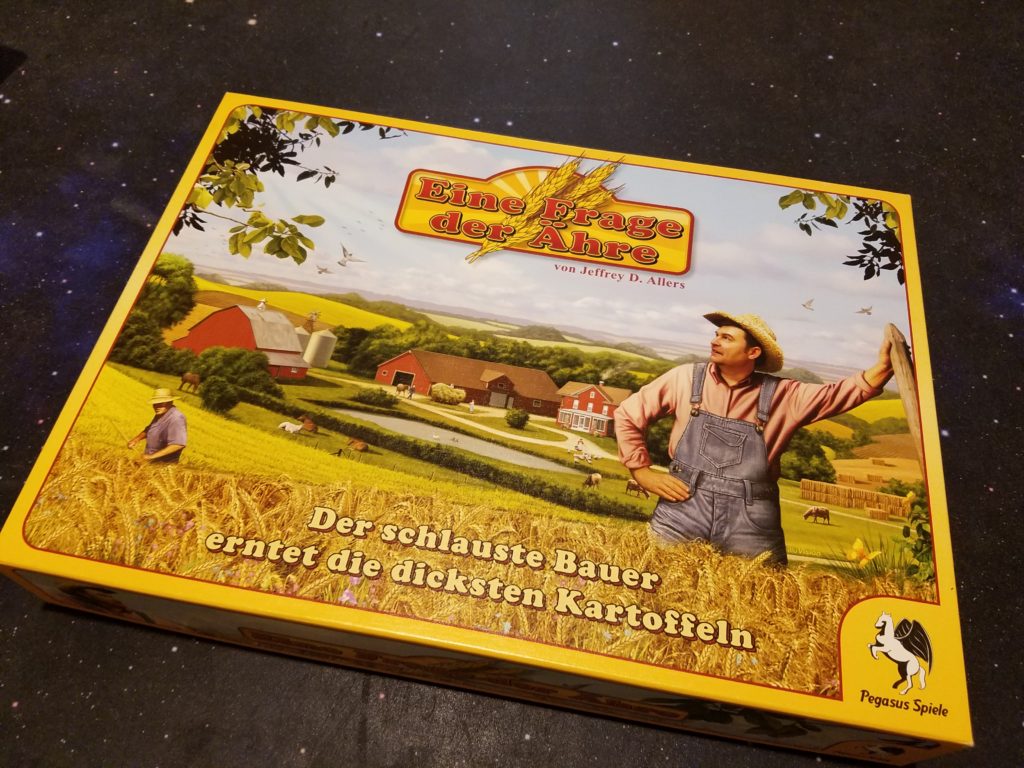 Lastly, I played Heartland. Oh, Heartland … this game has been my friend's white whale for pretty much the entire time I've known him. There aren't too many copies for sale online, and those that are on sale go for like $200. I recently borrowed a copy from the Game Boy Geek, as he's the only person I know who has this game, so that my other friend and I could play it. It's a tile-laying game about farming. Sounds boring, right?? It's actually pretty fun and cutthroat.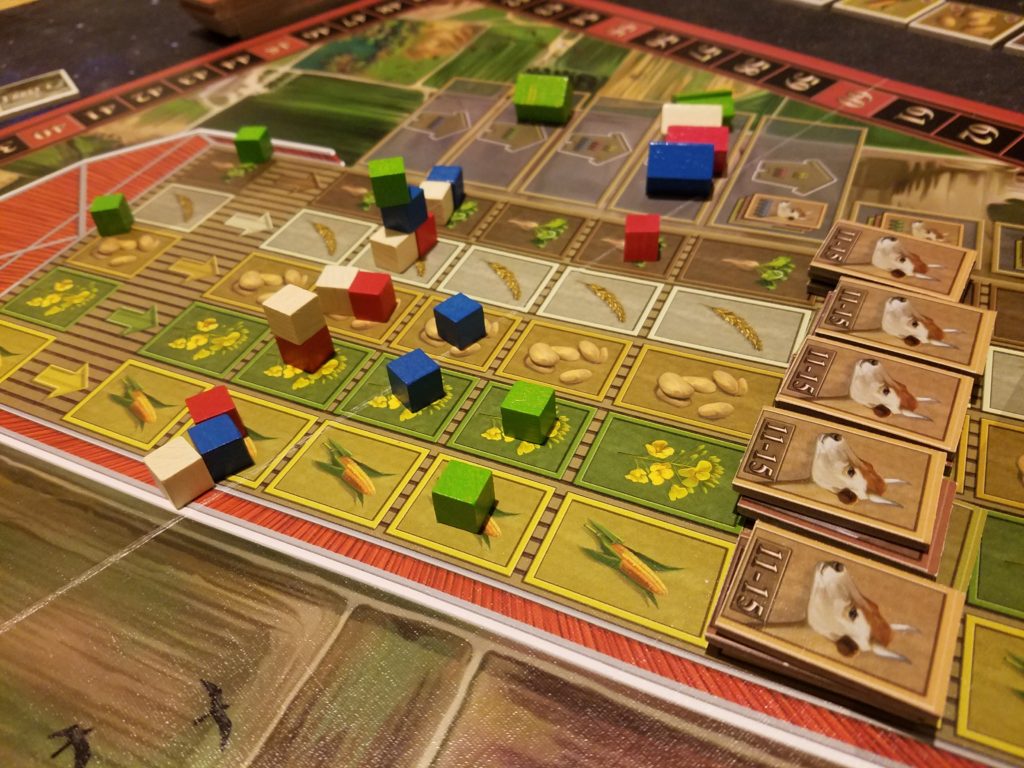 My friend ended up finding somebody on boardgamegeek.com to sell it to him, and we got a chance to play his copy last night. The game is pretty simple to learn. Tiles have different crops on it, and on your turn, you play a tile to build a field. You can either take victory points for the size of your field of matching crops, or you take farm points from your tile, which moves you up the farm track. When you get to a certain point on the farm track, you can place your farm building on the board. When you place your building on the board, you get points every turn based on the size of your farm.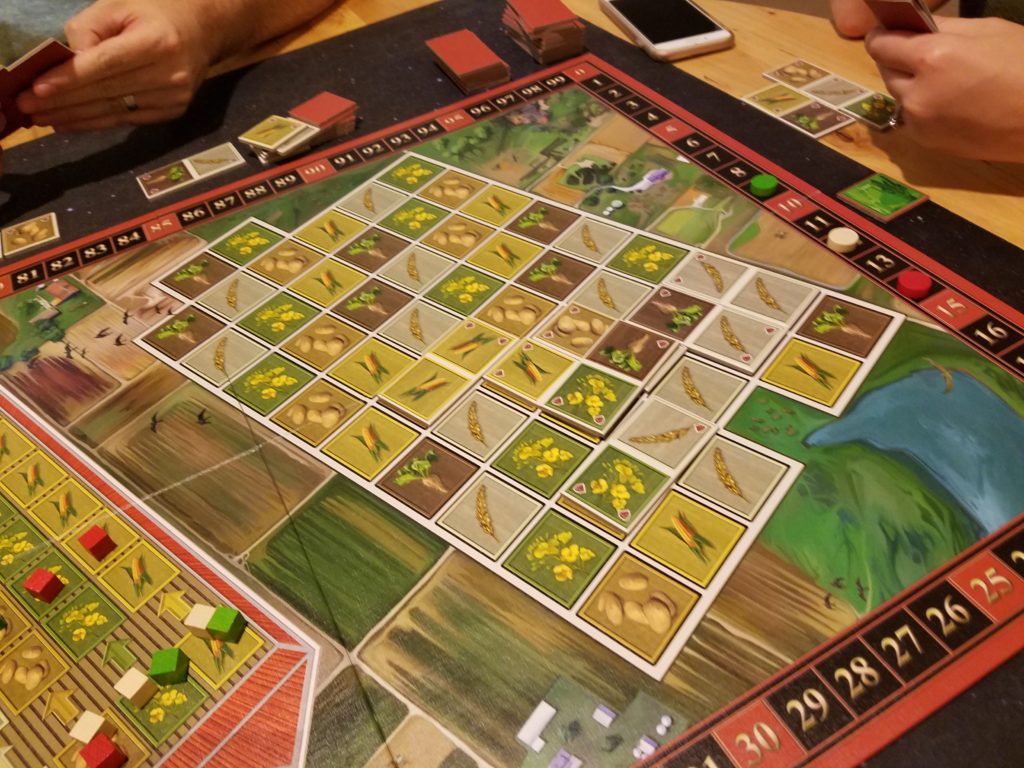 Now comes the cutthroat part. Other players can chop up your farm by laying tile down of other crops. So what looked like a good yield in the beginning, now you're just getting fewer points each turn. And as you get to the top of the farm track, you are rewarded with more victory points for being first. The game ends with when you hit the end-game tile in the last stack of tiles from the pool. Game play lasts about an hour. Pretty solid game in my book, despite the bland artwork and theme.
And that sums up the last few weeks. I'm hoping life is a little bit less chaotic this month, which means more time for board gaming! Folks, tell me which new games you've played recently!